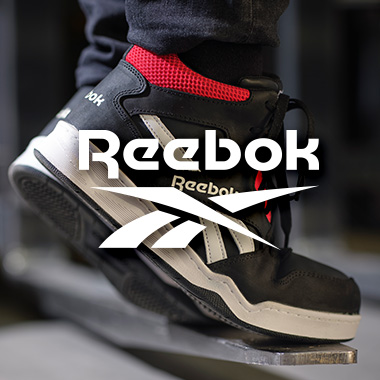 Reebok – Timeless safety shoes for top performance: Discover Reebok Inspire

Reebok – Timeless safety shoes for top performance: Discover Reebok Inspire
Score in the workplace with Reebok Work's sporty safety shoes. The Inspire collection's footwear is heavily influenced by the world of sports. The Inspire collection is modelled on the timeless BB4500 sneaker, which has been showcased by influencers, celebrities and sports icons. With the Inspire, you don't step onto the basketball court, but into the workplace. While wearing a pair of safety shoes that meet all the S3 safety class requirements.
Large-scale media campaign
A new campaign will be launched in April which features the sports-inspired Reebok Work safety footwear. This media campaign will highlight the Inspire collection. Reebok Work advertises on Veronica (Dutch TV channel) during the Europa League and Europa Conference League, during the quarter-finals and semi-finals which are broadcast from 13 April to 18 May. Reebok Work will also benefit from additional visibility online through ads on Google, YouTube, Instagram and Facebook.
Features of the Inspire collection
The Inspire safety shoes feature a protective composite toe cap and a Kevlar anti-perforation sole. This keeps your feet well protected from falling objects as well as sharp items penetrating the sole. The sole, made of EVA and rubber, is light and offers cushioning with every step you take. The rubber running sole is non-slip (SRC certified), giving you plenty of grip on a wide range of surfaces. The mesh lining ensures your feet stay fresh for longer while working. Both shoes feature ESD and are anti-static. Making this collection stylish and super safe.
Comfortable inlay soles
All Reebok Work safety shoes are also fitted with an ergonomic MemoryTech inlay sole. It adapts to the contours of the foot, providing the wearer with long-lasting cushioning and the highest level of comfort. The inlay sole is also removable. Remove them from your shoe after a long working day so it can air or dry well.
Stock up now. Check out our complete range of Reebok Work safety shoes!
Need help?