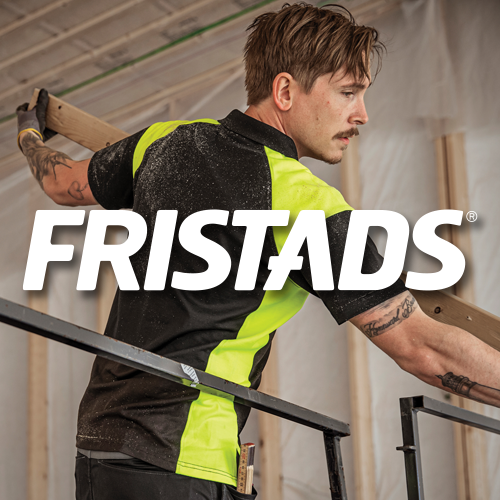 Fristads Fusion – The cross-over collection

Fristads Fusion – The cross-over collection
Whatever your profession – Fristads Fusion brings people and companies together and emphasizes brand identity. Offering versatility, comfort and functionality, Fristads Fusion sets a new standard for cross-over workwear. A wide range of garments, colors and thoughtful details, such as hidden buttons and zips, make this an extremely flexible collection that can be adapted to virtually any business. Most garments are approved for industrial washing and OEKO-TEX® certified.
A new level of comfort on the job
In 2021 Fristads launched the first Fusion trousers made from 100% stretch fabric, adding extra comfort to the working day. These trousers are made of a lightweight fabric quality that stretches in all directions. To increase the lifespan of these trousers, ripstop stretch reinforcements have been added to vulnerable areas. Features such as knee pockets, reflective details and other practical functions make these trousers a versatile all-round garment that can be used by many professionals. For example, installers, carpenters, and repairers.
A collection for all
When it comes to diversity, few competitor collections can compete with the Fusion line. Imagine a large construction company that develops commercial projects from the design stage to the maintenance of completed buildings. With our Fusion collection, the company can dress everyone from salespeople and warehouse workers to carpenters and facility maintenance staff in the same collection and in the same or different colours. With Fusion, the company can easily present itself and boost the team spirit at the same time!
For building & construction
The Fusion trousers and matching tops have been developed primarily for workers in the service and industrial sectors but are also a popular choice for many professionals in the construction industry. This makes sense, as these crossover garments are designed to be both durable and comfortable, with many practical features and pockets. Combine the trousers with a tool belt for extra functionality.
For service & industry
With durable material, practical pockets and a wide range of colours and customisation options, the garments in the Fusion collection are the perfect choice for professionals in service and industry. Choose between sporty stretch trousers, comfortable lightweight trousers and durable trousers with a more traditional design. The majority of the Fusion garments are also PRO-labelled, which means they have been tested and approved for industrial washing.
Need help?
Please contact us via T. +31 (0)181 47 50 00. Our team will be happy to tell you more!