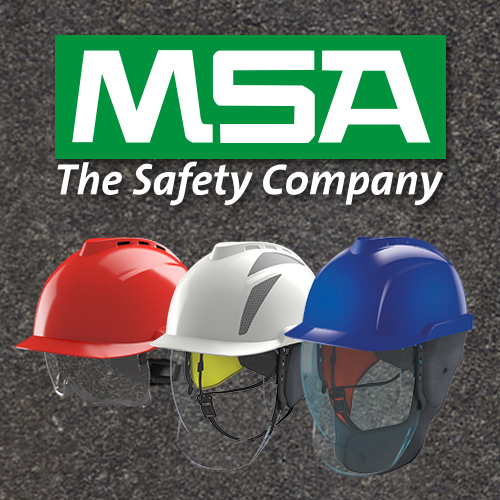 MSA – On the road to safety…

MSA – On the road to safety…
…without compromising on comfort and ease of use. MSA has been manufacturing industrial helmets for more than 90 years and is today a world leader in industrial head and face protection. For MSA, it is very important to keep abreast of market trends and the needs of end users.
During new product development projects, not only do we rely on our experience and the requirements we have identified, but we call on hundreds of safety officers and helmet wearers at all stages of the development process: Concept definition, prototype testing through to final product-wearing tests in field conditions. For example, the development of the V-Gard 900 helmet range saw the involvement of at least 350 individual users from more than 250 different companies in various market segments (OGP, Construction, Utilities) and of different sizes (individual craftsmen to multinationals). MSA's experience and its position so close to the market ensures that we regularly expand our portfolio of V-Gard industrial safety helmets, face protection and perfectly fitting accessories.
V-Gard® 930 Vented Protective Cap
Balanced, modern, low-profile head and integrated eye protection – in one vented industrial hard hat with 6-point Fas-Trac® III ratchet suspension, integrated over spectacles with intelligent adjustment and innovative rubber seal. For use where top impact hazards to the head, UV and particles hazards to the eyes exist. With clear or tinted over spectacles. Also available in non-vented version.
V-Gard® 950 Non-Vented Protective Cap
Balanced and lightweight electrician's safety helmet, non-vented, with 6-point Fas-Trac® III ratchet suspension, GS-ET-29 class 1 (4kA) face shield certified for protection against arc flash. For use where top impact hazards to the head, chemical splash, Ultra-Violet radiation, molten metal splash or electric arc to the face exist
V-Gard® 950 Class 2 Non-Vented Protective Cap
The V-Gard 950 Class 2 safety helmet has been developed for electrical activities requiring demanding arc flash protection up to 7kA. This balanced and lightweight unvented electrician's helmet features an integrated GS-ET-29 Class 2 (7kA) faceshield with a light transmittance ≥ 75% and a MSA-unique extended neck & ear flaps protection.
Need help?