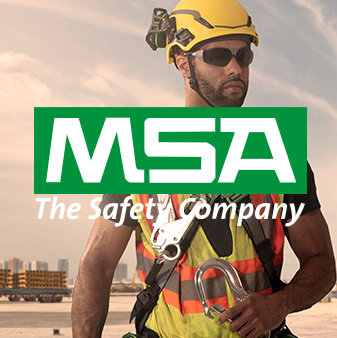 New MSA Climbing Style Helmet Range – Request a free Sample now !

New MSA Climbing Style Helmet Range – ask for free Sample now !
The V-Gard® H1 Safety Helmet provides exceptional comfort and ease of use in a stylish low-profile hard hat design. A complete above-the-neck platform for all applications.
Available as EN 397 approved (industrial helmets, V-Gard H1 Novent or V-Gard H1 Bivent) OR as EN 12492 approved (mountaineering equipment V-Gard H1 Trivent), the V-Gard H1 protects workers working at floor level and in working at height applications
Why should you recommend V-Gard H1 to your customers?
Fas-Trac® III Pivot Ratchet Suspension for superior comfort, adjustability, and range of motion.
Non-contact foam liner maximizes air flow and breathability for optimal cooling and hygiene.
Non-vented options for use in electrical applications.
Vented options for optimal air flow and cooling.
Field replaceable 4-point chinstrap with multiple adjustment points for customized fit and comfort.
Premium moisture wicking headband with breathable foam and Velcro® attachment for easy field replacement.
Patented "push-button" attachment of V-Gard H1 Visor or Spectacle.
Universal clips for headband lamps.
Convenient rescue whistle integrated into the chin strap buckle.
Having sold well over 100 million helmets since its introduction, the MSA V-Gard® range is a brand recognised and revered the world over
Request a FREE sample now. Please contact us info@majestic.nl.
CONDITIONS
Contact Majestic to decide which V-Gard H1 version best suits your application.
You are only eligible for a free sample if there is a minimum end user-sales potential of 10 helmets (verification will take place)
Please take a look at the three V-Gard H1 models:

Article 6.16.840.00                                         Article 6.16.839.00                              Article 6.16.841.00
Please watch the video below.