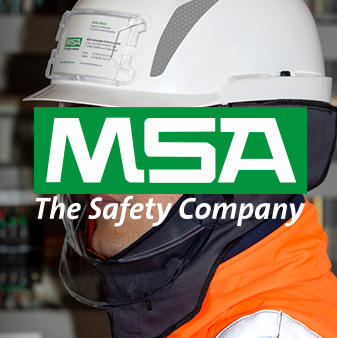 NEW from MSA! V-Gard 950 Class 2. Helmet with Integrated 7kA Visor

NEW from MSA! V-Gard 950 Class 2. Helmet with Integrated 7kA Visor
The V-Gard 950 Class 2 safety helmet has been developed for electrical activities requiring demanding arc flash protection up to 7kA. This balanced and lightweight unvented electrician's helmet features an integrated GS-ET-29 Class 2 (7kA) faceshield with a light transmittance  ≥ 75% and a MSA-unique extended neck & ear flaps protection.
Example industries: Rail, Power Generation, Electrical Services, Utilities, Automotive and Construction.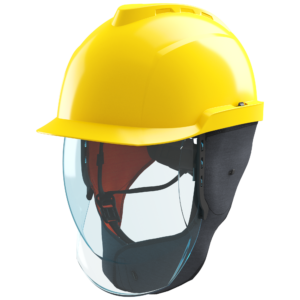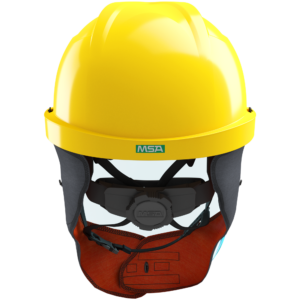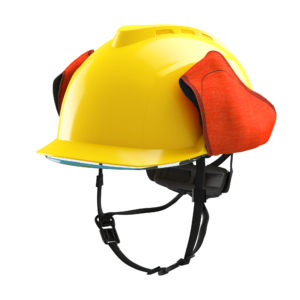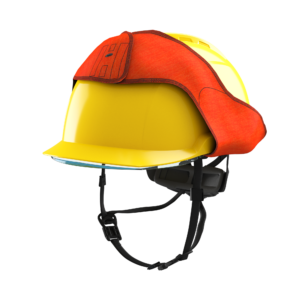 Item 6.168.76.12 (yellow) and 6.168.76.02 (white)
Please click the item number to view this product in our webshop.
Product details
Modern, dynamic with sports styled shell
Made of ABS for strength and lateral crush protection (LD option)
Low profile (patented visor mechanism which minimises helmet shell size)
GS-ET-29 Class 2 (7kA) light blue integrated faceshield with light transmittance ≥ 75%, protecting against impact, chemical splash, UV radiation, molten metal splash and electric arc
Unique extended ear and neck flaps fitted, ensuring protection against arc flash up to 7kA; 2 positions : working or stand-by
Channel around perimeter of the helmet diverts rain and debris from user
Electrically insulating helmet meeting EN 397 440 V AC & EN 50365 1000 V AC
Protection against molten metal (MM option)
Complete with 4-point chinstrap for better helmet retention
Protective foam at the top of the faceshield for an enhanced seal
Premium anti-fog/anti-scratch coating faceshield fits over all corrective or safety glasses
Reliable one handed smooth movement, even gloved
2 faceshield positions (up or completely down)
6-point Fas-Trac® III ratchet suspension with premium washable and replaceable sweatband
Balance and stability with a lower nape strap
Ratchet offers smooth rotation
Anti-static certified for use in ATEX/explosive environments
Helmet delivered in a protective reusable storage bag
Would you like to receive more information or try out the product yourself? 
Please contact us T. +31 (0)181 47 50 00 and we would like to tell you more.