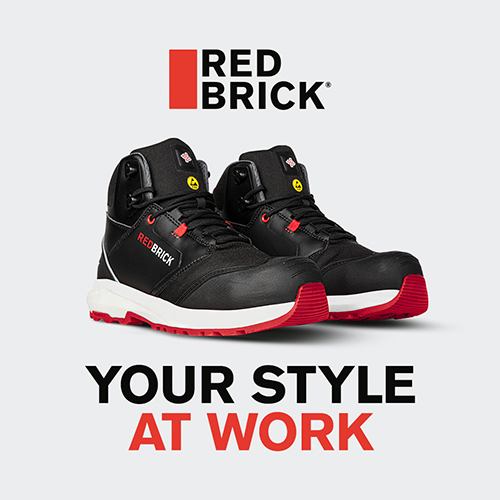 Redbrick – Modern safety shoes are indistinguishable from sneakers

Redbrick – Modern safety shoes are indistinguishable from sneakers
Safety is essential, but that doesn't mean a safety shoe has to be clunky, stiff and boring. At Redbrick, we offer trendy and quality safety sneakers to suit your lifestyle and working environment. Because whatever you do, you want to look good on the work floor – without sacrificing safety, of course.
Be it logistics, construction, industry or some other segment, Redbrick safety shoes are suitable for various sectors. Curious about the selection? Check out the Majestic webshop for the available range.
Extra brand support with national media campaign
A new campaign will start from 29 May to further increase Redbrick brand awareness and strengthen brand preference, with an additional focus on logistics and construction.
We will use different channels to bring our brand and products to the attention of our target audience. This includes both online and offline media, with a strong focus on the specific sectors we want to reach. For example, Redbrick can be heard on radio (SlamFM) and ads are running on social media, YouTube and Google.
Help build on Redbrick's success
To make this campaign even more powerful, we have also developed a complementary marketing package available to Redbrick dealers. This package includes materials and resources you can use to support the new campaign and benefit from the attention we generate. Keep in mind that the marketing package is in Dutch.
Download the marketing package
Please note that this marketing pack is embargoed until Monday 29 May. The resources are not allowed to be made public before this date.
Need help?