New Sioen ExcellArc Collection

New Sioen ExcellArc collection.
More protection and increased comfort for the wearer. That is in short what our newest Siopor® Excell collection stands for.
Our new Siopor® Excell styles comply to the new IEC 61482-2 / 2018 standard, ATPV 9.1 cal/cm², protecting the wearer against the risks caused by an electric flashover. This new collection named "ExcellARC" will be certified according to the most recent standards.
The fabric is not only softer and more supple, but it is also lighter of weight: 280 g/m². What makes the garments even more comfortable and pleasant to wear is that the breathability of the fabric has been improved. Siopor® Excell products comply to class 4 for breathability (Ret < 15) of the new standard EN 343-2019.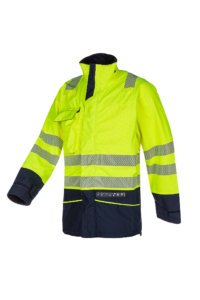 Torvik – Hi-vis rain jacket with ARC protection.
Lightweight, superior protection, breathable and waterproof. The Grindal rain jacket ticks all these boxes. This soft and supple jacket, manufactered in our new and improved Siopor® Excell fabric only weighs 280 g/m² while offering a very high level of protection complying to international standards like IEC 61482-2, EN ISO 11612, EN ISO 11611, EN 1149-5 and EN 13034 amongst others. The segmented reflective tape adds to the breathability and the flexibility. The elongated backtail, preshaped sleeve ends and the improved YKK-zipper with ergonomic pull tab also increase the conveniece of this jacket.
Available in S – XXXL.
Colour:
Navy Blue / Hi-Vis Yellow-Navy / Hi-Vis Orange-Navy
Fabric:
Siopor® Excell: 3-layer fabric: Dobby ripstop polyester fabric (& AST) + breathable FR PU + inherent FR knitting; ± 280 g/m²
I.L.S.: 7690 – 9375 – 9376 – 9633 – 9634 – 9643 – 9644 – 7870 – 9705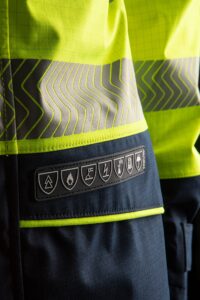 I.L.S.:
7690 – 9375 – 9376 – 9633 – 9634 – 9643 – 9644 – 7870 – 9705
ExcellArc collection
Within the new ExcellArc collection you will find:
Please click the article numbers to view the products on our webshop.