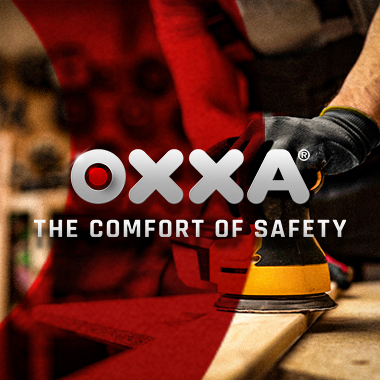 OXXA – Tips for choosing the right cut-resistant work gloves

OXXA – Tips for choosing the right cut-resistant work gloves
Choosing the right cut-resistant work gloves is essential to protect hands from injuries when working with sharp objects and tools. Here are some tips for choosing the best cut-resistant work gloves:
Cut resistance level
Check the cut resistance level of the gloves. This is usually rated on a scale from A to F, with A offering the lowest protection and F the highest. Choose a level appropriate to the risk level of the work. Consider the materials you're working with, how tough the job is, and the risk of cuts.
Certification
Make sure that the work gloves comply with relevant standards and certifications, such as EN 388 for mechanical risks. This standard provides information about the cut resistance (according to the ISO 13997 standard), abrasion resistance, tear resistance and puncture resistance of the gloves.
Material
Pay attention to the material of the gloves. Cut resistant gloves can be made of different materials such as Dyneema, Kevlar, fiberglass, steel fiber or HPPE (high-performance polyethylene). Or a combination of these materials. These materials offer excellent cut resistance.
Fit
A good fit is crucial for comfort and protection. The gloves should fit snugly on your hands without pinching or being too loose. A good fit ensures that the gloves do not shift during work and that you can still move your hands easily.
Grip
Check that the gloves provide a good grip. A good grip is important to prevent tools or objects from slipping out of your hands, which can cause injury. The grip is determined by the coating of the glove.
Comfort and breathability
Work gloves should be comfortable, especially if you wear them for a long time. Choose gloves that are breathable to minimize hand sweat.
Test and rate
If possible, test the gloves before purchasing. Try out some of the movements you often do at work to see if the gloves are suitable.
Maintenance
Make sure you clean the work gloves regularly and maintain them according to the manufacturer's recommendations to maintain their performance.
Take into account the specific working conditions and the risks you encounter when choosing the right cut-resistant work gloves.
Some of OXXA's most popular cut resistant work gloves:
All of these gloves are also Sanitized® treated to inhibit bacteria, minimize odors and promote freshness
In short, when selecting the ideal OXXA cut-resistant work gloves, it is crucial to consider the level of cut, material, comfort and the nature of the task. Keeping these factors in mind will help you strike the right balance between safety and functionality, ensuring that your hands are well protected while allowing you to work efficiently and comfortably. OXXA's range offers a range of options to suit different needs, giving you confidence to make the right choice for your specific work environment.
Need help?