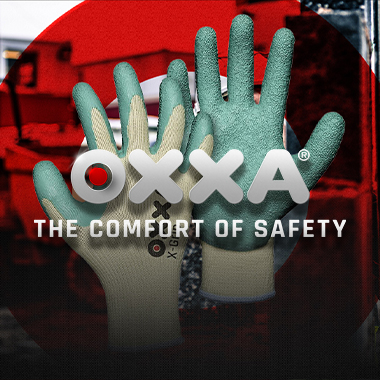 OXXA® work gloves for the construction industry

OXXA® work gloves for the construction industry
In the construction industry, numerous professionals work with their hands day in day out. They must therefore be well protected against knocks, abrasion, cuts, heat, cold and moisture. Also when working with PUR, adhesives, sealants, paint and grout, the hands should be optimally protected. Also, work gloves should not impede the freedom of movement of the fingers when a precise touch is important. At OXXA®, every construction professional will find the work glove most suitable for him or her.
Hand protection against knocks, abrasion and cuts
Which work glove is best to use in construction depends mainly on the nature of the work. The requirements placed on work gloves for structural work differ from those for finishing work. For a concrete fitter, block splitter, floor layer or bricklayer, the hands must be especially well protected against abrasion and impact.
Concrete, aerated concrete blocks, bricks and cement have rough surfaces and sharp edges. The OXXA® X-Grip 51-000 grip with latex crinkle coating offers very good hand protection for such work. These solid work gloves are seamless and with good finger sensitivity, you keep an excellent grip on your work.
For extra protection against bumps and cuts, the OXXA® X-Cut-Flex IP 51-705 work glove with Nitrile-Foam coating is also often chosen.
For roofers who work a lot with gas torches for bituminous roofing, the OXXA® Winter 47-040 glove made of supple leather is ideal.
Need help?