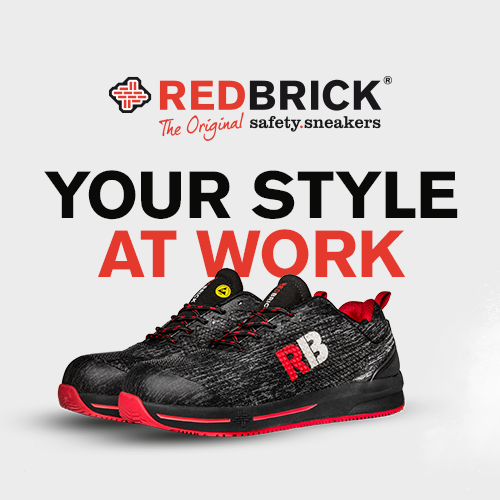 Redbrick: the original safety sneakers

Redbrick: the original safety sneakers
You only live once. So you want to look good at work too. A safety shoe has to offer protection, let there be no mistake about that. But appearance matters too. We prove that work shoes don't always have to be brown and bulky. Redbrick: your style at work.
Working in a style that suits you
A job can only be done properly when it's done safely. With Redbrick you choose the best of both worlds. A safety shoe that looks like a sneaker and is comfortable to wear as well. Whether you're working on a job by yourself or having fun with your mates, Redbrick's safety shoes let you work in your own style. These safety sneakers don't just look good; They are made of modern materials, such as microfibre, EVA and mesh. Modern shoes for the modern man and woman.
Are you a dealer already?
In May Redbrick will kick off a national media campaign. This is the perfect time to add the safety sneakers to your product range. Have you placed your orders yet? View our range of Redbrick safety sneakers HERE.
Would you like more information about Redbrick's products?
Please contact us via T. +31 (0)181 47 50 00. Our team will be happy to tell you more!