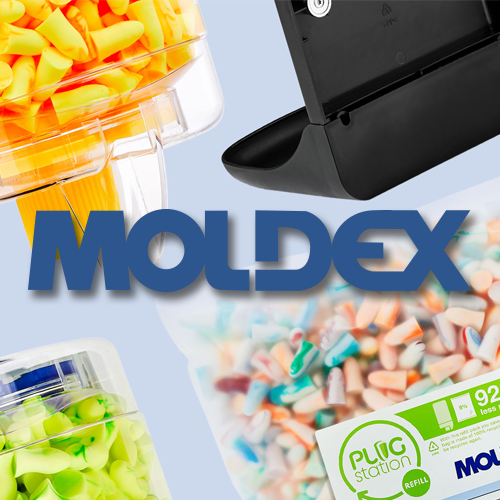 Moldex – Hearing protection: can it be hygienic and durable?

Moldex – Hearing protection: can it be hygienic and durable?
The existing range of products has been expanded in recent years with many products for hygiene and prevention. As a manufacturer of respiratory and hearing protection, you have to go along with this development; you cannot stay behind. This is not easy, because the aspect of sustainability is also becoming increasingly important. Moldex has succeeded in expanding the hearing protection line with a number of new products. These products fit in perfectly with the current situation. The starting point for this was the key words 'hygiene and sustainability'. We also took continuity into account – it is important to be efficient in the distribution of hearing protection because the work must continue.
As of 2022, Moldex has renewed its hearing range. All PlugStations produced from 2022 onwards have a handle that makes them easy to open and refill. All foam earplugs are now available in refill packs of 500 pairs, packed in a 100% recycled plastic bag. This saves up to 92% of plastic waste.
PlugStation TouchFree and the PlugStation Antibacterial
New to the hearing range from Moldex are the PlugStation TouchFree and the PlugStation Antibacterial. The PlugStation TouchFree is a dispenser with a sensor that delivers two earplugs without touching the dispenser. This ensures the hygienic dispensing of earplugs. The PlugStation Antibacterial has a rotary button with a copper surface, which kills more than 99.9% of bacteria. A mechanical solution without making concessions to hygiene.
The well-known wall brackets are now also available in a magnetic version, which allows them to be mounted easily and quickly on metal surfaces without drilling or screwing. With these updated and new products, Moldex has taken a step forward in safety, sustainability and hygiene!
View the Moldex PlugStations collection HERE!
Need help?
Please contact us via T. +31 (0)181 47 50 00. Our team will be happy to tell you more!