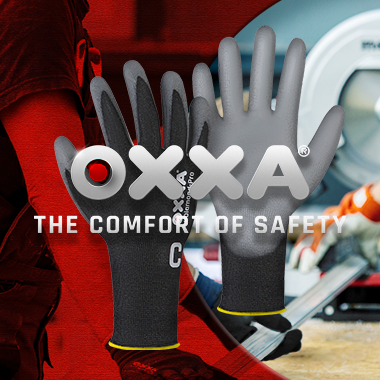 OXXA® work gloves meet all requirements

OXXA® work gloves meet all requirements
The Working Conditions Act sets requirements for work gloves that professionals can use to work safely. Fortunately, all work gloves from the OXXA® range meet these legal requirements. This way you can really work safely.
Work gloves offer protection against various risks, such as abrasion and cutting. The OXXA® X Pro-Flex is a good choice for protection against abrasion and if you are looking for work gloves with good cut resistance, we can recommend the OXXA® X Diamond Pro. In addition, there are work gloves that, in addition to protection, can also keep your hands warm (for example, the OXXA® Cold-Grip). All work gloves from our collection comply with the PPE Regulation 2016/425 and the EN 388:2016, the models that protect against the cold comply with the EN 511:2006.
Compliance with this legislation is certainly not optional. This applies to both an employer and an employee. For example, not using the PPE provided, or not using it correctly, can eventually lead to dismissal.
Which work glove is most suitable for you depends on the nature of the work. We can of course advise you on this. Because all OXXA® work gloves comply with the Working Conditions legislation, you can be sure that your hands are protected as well as possible.
Need help?
Please contact us via T. +31 (0)181 47 50 00. Our team will be happy to tell you more!