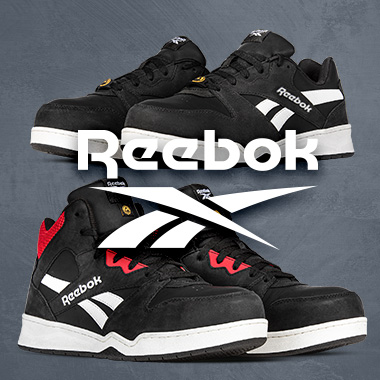 Reebok – Discover the Reebok Inspire collection

Reebok – Discover the Reebok Inspire collection
Looking for a safety shoe with a classic sneakerlook? Then Reebok Work's high performance safety shoes are the answer. The Inspire collection is indistinguishable from sneakers and yet meets all the requirements for the S3 safety class.
The Inspire collection features a protective composite toe cap and a kevlar anti-perforation sole. This protects your feet from falling objects and sharp objects penetrating the outsole. The EVA and rubber sole is light and offers cushioning with every step you take. The rubber outsole is non-slip (SRC certified), giving you plenty of grip on various surfaces. The upper is made of water-repellent leather in line with the S3 requirement. The mesh lining ensures your feet stay fresh for longer while working. Both work shoes also feature ESD and are antistatic.
Comfortable insoles
All Reebok Work models also feature an ergonomic MemoryTech insole. It adapts to the feet of the wearer and provides long-lasting cushioning. The insole is also removable, so it can be aired or dried after a long day of work. The insoles are also available separately.
Contact
Would you like to know more about the Reebok Inspire collection? Or are you interested in our complete range of Reebok Work safety shoes? View the complete collection here or contact us directly for more information.