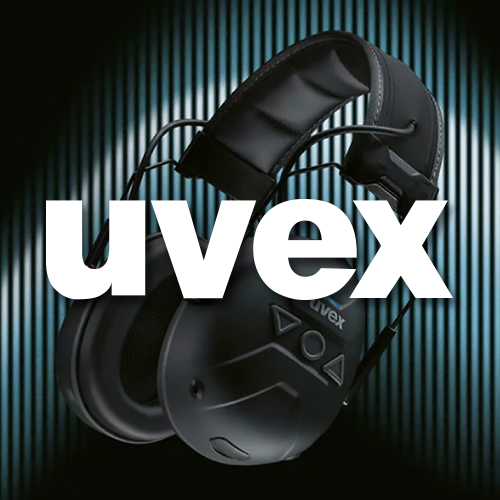 uvex aXess one: safe hearing in a loud environment

uvex aXess one: safe hearing in a loud environment
The uvex aXess one protects against harmful noise while the Real-Active Listening (RAL) function allows you to hear the sound from your surroundings at a safe level. Two Bluetooth connections are also possible at the same time, which means that for example, a smartphone and a walkie-talkie can be connected to the uvex aXess one simultaneously. This makes clear communication possible without interrupting your work.
Active earmuffs with Bluetooth: safe. active. connected.
The transmitted volume of ambient noise can be individually adjusted. The integrated sound level limiter protects hearing from impulse noise. This enables good communication and improved perception of warning signals.
Today's generation of employees is used to being available and reachable everywhere. Thanks to the dual connection mode, two devices can be connected at the same time. The optimal shape and positioning of the function keys makes the uvex aXess one quick and easy to operate when worn, leaving both hands free for work.
The special audio assistant indicates the current status, which means that the cap does not need to be switched off in the danger zone. When you are not using the uvex aXess one, it can be stored away small and conveniently thanks to the foldable headband. uvex has a hearing protection pouch in which the uvex aXess one fits perfectly and which can be easily attached to the belt, so that the hearing protection is always to hand.
The uvex aXess one offers an attenuation of 31 dB and can be fully charged via USB-C in 2.5 hours. Thanks to the closing caps, these ear muffs are also suitable for use in dusty and damp working environments.
The ear muffs are comfortable to wear due to the extra-soft memory foam ear pads, the optimal cap geometry for a pressure-free seal around the ear, the infinitely variable length adjustment for a perfect wearing position and the padded headband.
The uvex aXess one for safer communication.
uvex aXess bluetooth one ear muff with headband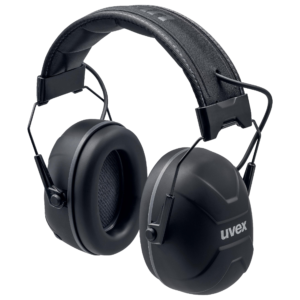 Art. no. 3.17.375.00
Need help?